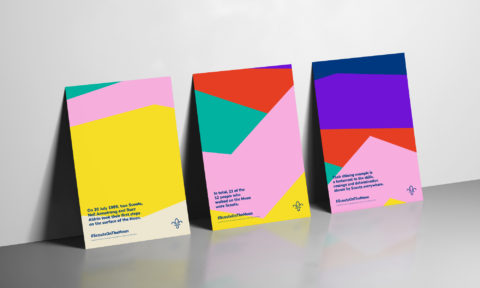 Scouts
Celebrating the 50th anniversary
of the moon landing.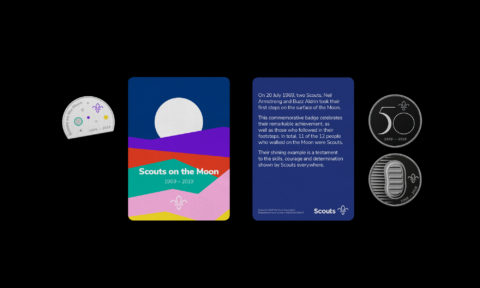 In short
On 20 July 1969, Neil Armstrong and Buzz Aldrin, both of whom were Scouts, were the first humans to walk on the surface on our closest celestial neighbour as part of the Apollo 11 mission. Eleven of the 12 people that have moon-walked were Scouts as children.
Project information
The concept for the Scouts on The Moon badges was to celebrate the anniversary as well as the connection with astronaut Tim Peake, who is a Scouts ambassador. Initially, the plan was to award the Scout groups that collectively walked a certain distance with the badge, but the idea was so popular that the association decided to create three commemorative badges that could be gifted and bought through the Scout Store.
The first features a full moon and is inspired by the craters and markings of its surface. We wanted to create something that had a really different shape to the generic circle or square of a normal badge. The second depicts the iconic boot print and the third shows the number 50 made out of a waxing crescent moon and circular new moon.
We created 30 to 40 different designs for the badges before settling on the final three along with a background presentation card for the badges, as well as a foiled leaflet explaining its context that unfolds to create a poster. This artwork has also been used to make prints for The Scout's HQ at Gilwell Park in Chingford.
Scope of work
Visual Identity
Merchandise
Animation
Credits
Animation: Craig Essam